B
Beta reader: a person who reads fan fiction before its release to the "general public".
Bromance: a close relationship between two men, but nonsexual. It can also be a complicated love relationship between two straight men.
C
Chibi/ Chibis: deformed cute characters, usually with very big heads and tiny bodies. (From Japanese Manga)
Comic-con: short for the San diego Comic convention International.
Comiket: or "comic market", is the largest "doujinshi" (self-published) Japanese manga/ comics.
Con: short for convention.
D
Dark Lord: refering to the evil character, usually with plans for world domination or its destruction. Examples: Darth Vader, Sauron, Loki.
Dark Side: the negative side of the Force, the "divine power", "mystical force". (From Star Wars)
Death smile: probably from "death ray" (Nikola Tesla), refering to Loki having the sexiest smile ever.
Decaffeinato/ it's decaf. I took the caffeine out. I "decaffed" it. Decaffeinato!: without caffeine; please, without caffeine
Doujinshi: a self-published manga/ comic, usually from an amateur (manga, Japan)
E
Ehehehehe: LMFAO, LOL, that is very funny
*Evil smirk* That was the plan: that was my intention. Yup, that was it!
F
Fanfic: short for fan fiction.
Fan fiction: stories made up by fans about fictional characters.
Fangirl/ fanboy: someone who is obsessed or has an intense interest towards a fictional or non-fictional character/ person/ celebrity.
Fangirling: behaving as a fangirl. For example: to collect pics in your computer, having posters, collecting things, being aware of being a fangirl. Extreme fangirling would include a Gollum syndrome, according to which the idolized person turns to be like the One Ring.
Fanspeak: the slang used by fans.
Frak: the "F" word. (From Battlestar Gallactica)
H
HAND PORN (also, neck porn, etc): I love his hands
He sits like a whore: he sits in a very relaxed position
Hiddleboner: the feeling you get after admiring a pic or video of Tom Hiddleston. Some people react extremely adding to the word sweating, screams or words like "ovaries explode" if expressing it in written form.
Hiddles: short and cute term for Tom Hiddleston.
Hiddlesbatch: the couple formed by Tom Hiddleston and Benedict Cumberbatch, as an example of hot british men, including the following features: sexy cheek bones, extreme good manners and very sexy voices. Related term: Sherloki.
Hiddlesconda: or Mjolnir, has its origin in a meme picture of Thor, the first movie, where you can see Loki with "two Mjolnirs" (Thor's one and his own). Tom's male genital organ.
Hiddlescrotch: a vague metric unit to describe ridiculously big/ large things.
Hiddlesexual: related to Mr. Hiddleston sexuality or related to the attraction fans have for Mr. Hiddleston (in exclusive).
Hiddlestoned: similar to Loki'd, without the mischievousness. A Hiddlestoned fan is heavily stoned by Tom Hiddleston's charm. They mostly talk about him and his work.
Hiddlestoner: a fan/ devotee of Tom Hiddleston (aka. Hiddles). Some have tumblr blogs where they share his pics, others have Facebook pages, use the word Hiddles in normal conversations, etc.
Hiddlesgoddess: a fangirl who is addicted to Tom Hiddleston and creates fan art, videos, etc. Or, a sexy and beautiful fan woman who is addicted to Tom Hiddleston.
Hiddlesporn: pics, gifs or videos which involve a very sexy or charming Tom Hiddleston which create sexual arousal on the viewer.
Hiddlestalker: an extremely obsessed fan of Tom Hiddleston. They can cry just staring at a pic of Tom Hiddleston, and their live is centered onto him. Most of them can be found in Tumblr and Facebook.
Hiddlesworth: the romantic fanfic composed by Tom Hiddleston and Chris Hemsworth. Related term: Thorki.
Holodeck/ I need a holodeck: a simulated reality room (the Enterprise has one, from Star Trek). Using your imagination.
I
I can't: I can't deal with this (Tumblr)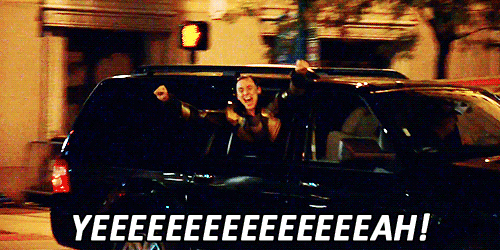 I do what I want: I regret nothing, I don't care about what you think, I am doing it anyways.
I feel like such a tit: I feel like such an idiot
I hate you: I love you
I have an army: I have friends
I SHIP it!: really cute together (Tumblr)
Incubus: a supernatural god/ male/ villain that sneaks into the rooms of fans to have sex with them.
K
Kawaii: cute, too cute, extremely cute. (From Japanese, meaning "cute")
L
Ladyboner: a woman who is sexually attracted to someone else, or, the object/ person of attraction.
Life ruiner: he is a perfect man
LLAP: live long and prosper (from Mr.Spock, Star Trek)

Loki'd / I'm Loki'd: are you mad?, you mad?, you got pranked, I'm in love.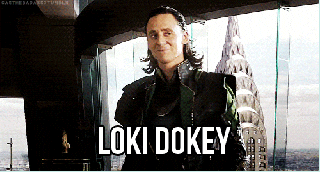 Loki Dokey/ Oki Loki: okee dokee, okay
Lokinion: (noun) Loki's Army Proud and Good Member, Loki's Loyal Servant.
Lokean: someone who honors Loki as his/her primary God.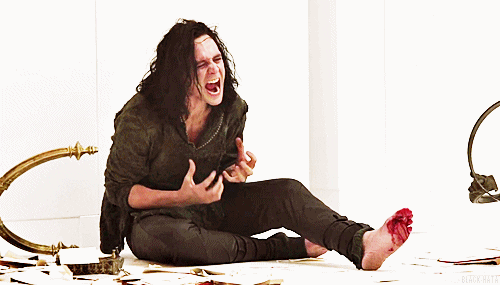 Loki feels: feeling sad, being sad, being confused, being misunderstood.
Lokitty: Loki and Hello Kitty. Hello Kitty disguised as Loki. Also, Loki as a cat.
Lokitteh: Loki as a cat. Loki in cat shape.
Loki life: a "crazy" life, a life plenty of mischief and tricks. Being or behaving as Loki.
Loki-Loki: being a badass. You have everything physically and intellectually. You are like Loki.
Loki morning!: good morning! Good mischievous morning!
Loki night!: to have a good mischievous night! Synonym of "good night".
Loki what I found: look what I found!
Look at all the fucks I don't give: a way to express anger and excitement of not giving a fuck. Synonym of IDGAF
M
Mjolnir: or Hiddlesconda, has its origin in a meme picture of Thor, the first movie, where you can see Loki with "two Mjolnirs" (Thor's one and his own). Tom's male genital organ.
O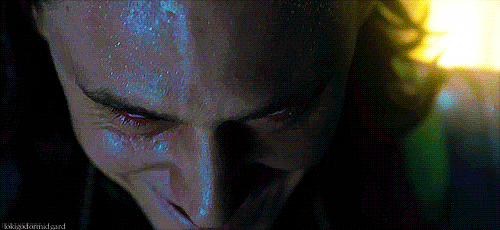 Oh, is it madness? Is it? IS IT?: Why do you say this is insane?
OMMG: Oh! My Mischievous God! Expresion meaning Oh My God!
Ovaries/ ovaries explode: incredibly handsome, and perfect guy (Tumblr)
P
Pon farr: a Vulcan word that describes a state of needing to mate or die. (From Star Trek)
Porn: he is sexy
R
RPF (real people fiction)/ RPS (real people slash): fan fiction involving real people.
S
Sapiosexual: a person who finds another attractive because of his/her intelligence. Attraction to intelligence.
Sherloki: Sherlock and Loki. Fans of Sherlock and Loki. Refering to the yaoi genre.
Shipping: the desire some fans have (specially anime and manga) that two characters end up romantically involved. (From manga)
T
This… I like it! ANOTHER!: Awww. Another, please. I like it!
Thorki: Thor and Loki, usually referring to the yaoi genre.
W
We're up all night to get Loki/ be up all night to get Loki/ to get Loki: from the song "Get Lucky" of Daft Punk. To get out to have fun (and perhaps, also, get mischievous in the way).
Y
Yaoi: a Japanese work of fiction, usually manga, which involves two male characters. With Loki you happen to have many combinations: with Thor (Thorki), with Tony Stark, with Sherlock Holmes…
You mewling quim: bitch
How to create Hiddleswords/ Lokiwords
To create new Hiddleswords and Lokiswords it's actually a very easy and creative process. You only need to add Hiddles or Loki/Lokis to the word that you want to create. For example:

Hiddles + word
Loki + word

Hiddleswords: a compound noun formed by the surname Hiddlestone and the noun word in plural. Hiddleswords means words that refer to or contain information about Tom Hiddlestone.
Lokiwords: a compound noun formed by the name Loki and the noun word in plural. Lokiwords means words that refer to or contain information about Loki.
Loki's Army members have created lots of cool words like:
Hiddlestalk: when you're constantly apologizing, being polite, and quoting shakespeare in Tom Hiddleston's accent. (Created by Rachel Evensen)
Lokiglee: that feeling when you think of something wonderful mischievous or twisted and you just *know* he'd love it. [This is an actual feeling I've had; if anyone can think of a better name for it, I'd love to hear it!] (Created by Jo Mason)
To take a look to other examples please go here.